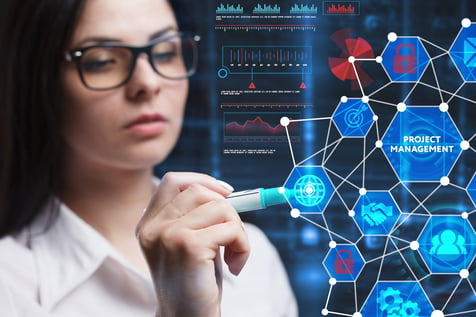 In Part 1 of this blog series, I shared a concerning statistic that 70% of strategic initiatives fail, described the most common reasons healthcare IT projects underperform, and offered leading-practice recommendations to contribute to effective project delivery. While the percentage of project successes is rising overall, "organizations still wasted almost 12 percent of their investment in project spend last year, due to poor performance," according to Pulse of the Profession, 2019.
Considering the ever-evolving technology landscape within healthcare, more integrated delivery systems (IDS) are embarking on digital transformation projects, by implementing the latest technology to remain competitive. Forbes names the top 6 digital transformation trends in healthcare as Telemedicine, Artificial Intelligence (AI), Blockchain, Artificial and Virtual Reality (AR and VR), Digital Twin, Wearables and IoT.
Deciding when and how to invest in these technologies is a complex path. To be successful, it is critical to develop a careful business case, planning, and program management (PM) strategies. Engaging program and project leaders with deep industry knowledge and courage to learn more about innovative technology may help you to better mitigate the risks of the unknown and embrace creative solutions within your IT organization.
This essentially refers to The Project Management Technology Quotient (PMTQ). PMI's Pulse of the Profession (2019), defines it as adding the principles of project management "PM" to the "TQ" or technology quotient, which is "a person's ability to adapt, manage and integrate technology based on the needs of the organization or the project at hand." The survey further describes methods to boost your PMTQ. What is your PMTQ?
When project leaders have a high PMTQ, projects often have a greater chance of success, because these 3 main dynamics exist:
Active, heightened sense of curiosity with an openness to new approaches and technology.
A cohesive, well-rounded leadership team who effectively manage people AND technology.
Talented resource pool who possess the "digital technology skillset of the future".


Implementing Emerging Technologies Can Be Exciting… But, How Can You Proactively Mitigate the Inherent Risks?
It is important for executive sponsors to strike a balance between exploring what is new and leveraging what is familiar, to minimize risk and contain costs. The end goal of patient care must play a key role in this cycle and each PM must be in tune with the vision, the end goal, and facilitating repeatable processes that provide ongoing visibility to the right audience.
In healthcare, no project is completely detached. Most departmental initiatives impact others, as part of a big picture goal to create an integrated set of processes and technology. Prior to planning emerging technology initiatives, it is critical that all team members are aligned with the organizational strategy and that the following actions are taken:
Document the strategic vision, goals, and business value expectations that can be measured.
Assign a dedicated Project Manager with a high PMTQ.
Adopt a hybrid approach to project management – be flexible and utilize various methodologies that are relevant to each initiative. This helps maintain a continuous state of readiness and adaptation (Pulse of the Profession, 2018).
Conduct a full risk assessment prior to project initiation.
Identify and classify the level of risk for each project and customize the governance approach.
Communicate with executive leadership and other stakeholders, as mentioned in Part 1 of this blog series.

Confirm the scope and project execution plan prior to project start.
Provide any additional training necessary to support project team member knowledge.
Utilize a RACI matrix to set expectations and document clear roles and responsibilities.

Identify and map the appropriate metrics to each goal, which is critical for accurate performance measurement. The Agency for Healthcare Research and Quality (AHRQ) provides example measures along with a Health IT quick reference to get started.
Join the Champions by Finding the "Right Healthcare IT PM"
While project management is only a partial factor in success, you will find that the right leaders will understand the concepts shared above and will work diligently to engage and inform sponsors, build strong relationships across departments, have a proactive plan for risk mitigation, and measure success along the way.
Lead by example, within your organization, and consider choosing a strong healthcare program or project manager with a high PMTQ to define, track, measure, and communicate the progress of your IT initiatives.
Here are the Top 8 Qualities of a Strong Healthcare Program/ Project Manager
Understands your health system, history with project delivery, and environmental factors that may impact the engagement.
Desires a partnership with you to create the best possible outcome.
Demonstrates excellent communication skills with a mastery in the art of listening.
Engages appropriately based on the scope of the project.
Understands healthcare terminology with a strong curiosity in emerging technology.
Anticipates needs based on depth of industry and departmental experience, with a commitment to offering recommendations that are valuable and relevant.
Exercises assertiveness, as necessary, and is not afraid to be specific when discussing strategies to overcome challenges.
Understands project management principles and various methodologies.
"Project Managers are the driving force. They will accurately strive for excellence and measure progress against key performance indicators (KPI's) across financial, process, technology, and people related areas, set by project sponsors and stakeholders."
Need Help Finding the Right Program/ Project Management Team?
ROI's foundation is based on project management excellence. Our team members measure, protect, and cultivate success every step of the way. When unexpected moments arise, we deploy clear strategies to alleviate them and to mitigate any reocurrence of downstream impacts. Issues and risks alone cannot destroy the success of a project. Lack of resolution and disconnection from project goals, however, can hinder success and turn any project into a nightmare.
Engage ROI (info@roihs.com) to make your next EHR, Rev Cycle, or ERP initiative a success story for your pocketbook, your team, and your technology.