As mentioned in Benefits Part One: Eligibility Made Easy, well-crafted benefit groups lay the foundation for success in maintaining your organization's benefit plans week after week. Even if they aren't perfect yet, that's okay - understanding how benefit groups control application functionality is a battle you will appreciate later. Fortunately, once groups are defined, they don't need to be modified continuously, or at least, you shouldn't be taking unlimited rides on the "custom group carousel." The day-in-day-out, in-the-weeds processing is performed with four jobs located in the CloudSuite HCM navigation menu under Benefits -> Maintenance -> Processes: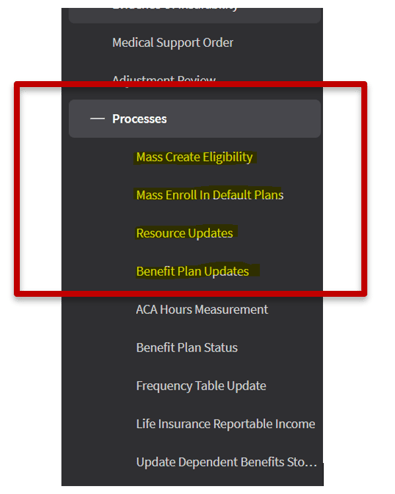 Let's explore the functionality in each of these menu options:
Mass Create Eligibility: There's that word again: "eligibility." This is the job that creates eligibility records on the EmployeeBenefitEligible business class, which subsequently controls if an employee can be enrolled in a plan for a certain period. Typically, this is a job that is scheduled to run at night after all new hires, rehires and transfers have been processed. This process looks at the main eligibility benefit group and entry rules for the plans defined on the job and creates benefit eligibility dates so that employees can enroll.
Important Note: Errors on this job need to be resolved and then deleted from the report before the next run of the job. GHR will skip evaluating enrollment for an employee if eligibility errors exist.
Mass Enroll in Default Plans: Once the Mass Create Eligibility job has run and eligibility records now exist, employees can be enrolled in associated plans. If your organization has default plans (Basic Life, LTD), GHR offers the Mass Enroll in Default Plans as a method to automate enrollment.
This job should also be scheduled and processed after the Mass Create Eligibility completes.
Resource Updates: As employees terminate, have pay adjustments, birthdays, or employment anniversaries, these changes need to be picked up and processed by the benefits module. The Resource Update job is how the benefits module does this. As with the previous two jobs, this job can and should be scheduled after the Mass Create Eligibility and Mass Enroll in Default Plans have completed.
Important Note: After the Resource Update job has completed, a benefit administrator needs to then process changes the job found into the employee's benefits. Also, as a result of accepting these changes into an employee's benefits, new deductions will be created.
Benefit Plan Updates: Lastly, the Benefit Plan Updates job is used to mass update employee benefits when changes to the core benefit plan is performed. For example, if you made a change to a plan coverage or to contribution amounts, this job can be run to update current enrollments to reflect the updated premium rates. Typically, this job is not run on a daily or weekly basis, but only needs to be run when there is a mid-year change to a benefit plan and does not need to be scheduled.
The Mass Create Eligibility, Mass Enroll in Default Plans and Resource Updates are async jobs that can be monitored under Async Administrator dashboard for failures. Since these jobs need to be run sequentially, some thought needs to be put into how to schedule. You can take a simplistic approach and simply space the jobs out a couple hours to give each job ample time to complete, or you could take a more complex approach and create a custom IPA to launch the jobs and monitor for completion.
Are you considering Infor GHR Benefits? Are you in the middle of a project and need some help? Do you just have some questions or need help writing interfaces? Wherever you find yourself, ROI Healthcare Solutions' amazing team of experts is here to help. Join us again as we continue our discussion in Benefits Part Three: Pre-payroll Tasks.
For more information on the Infor CloudSuite solutions, or to view our webinars, videos, eBooks, whitepapers, and more filled with knowledge to help you succeed, go to our website at: https://www.roihs.com