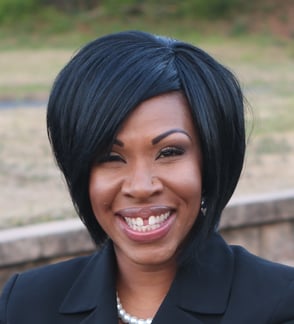 Spotlight: Shelli-Ann Jackson, MS, RN, PMP
Shelli-Ann is a Registered Nurse offering 19 years of direct healthcare and IT experience. In 2000, she began her journey in the healthcare industry and has been instrumental in process and technology improvements in Clinical areas and Information Technology.
She is a dedicated RN with a proven record of effective nursing leadership, performance improvement, informatics, training, full cycle systems implementation, and "special projects" management.
In 2017, she joined the ROI family serving as a Senior Level Consultant and Thought Leader within Healthcare IT Services. As a cross practice liaison she is able to leverage her hybrid skillset to improve operational efficiency.
A two-time graduate of Molloy College in New York, Shelli-Ann holds a Bachelor of Science degree in Nursing and a Master of Science degree in Nursing Administration with Informatics. In addition, she obtained Project Management Professional (PMP) certification in 2004, and has multiple EHR application certifications, including Allscripts & Epic.
Personal:
Shelli-Ann is a Jamaican native, who grew up in New York City. She currently resides in the suburbs of Atlanta, GA with her husband and two children. Having an entrepreneurial mindset, she is always reinventing herself, ready for the next challenge, and embraces change in her life-long commitment to value creation. Her passions include faith, family, career, and opportunities for community service. She remains cheerful in her actions and has an infectious personality.
When she is not working, you can find her at a track and field event (supporting her daughter), traveling, singing at various events, or leading community projects, like Let's Move! Day in the cities of North Georgia.
Philosophy:
My healthcare project management philosophy is grounded in the belief that patients are our first priority. Everything we do impacts the patient experience. If the end goal is a "better patient experience," we must then shift our focus to the process needed to achieve this goal.
A strong project leader in healthcare must utilize soft skills, be adaptable, understand the process, the technology, and how it can be implemented or optimized to solve the most complex issues in healthcare.
It is also important to partner with clinicians and departmental leaders to carefully plan every aspect of a technology project.
As it relates to emerging technologies, we should always remain open to learning "what's new"...
At the rate our healthcare industry is growing, despite the security issues and other unknowns that Artificial Intelligence, Virtual / Augmented Reality, Blockchain, IoMT and newer technologies may bring, these are exciting times. The benefits will outweigh the risks once we work together and figure things out. We cannot work in silos.
We will be better positioned to use these technologies to standardize processes, analyze patient data, make predictions, provide quicker diagnoses, increase patient engagement and solve major patient care issues. With ~60% of patient outcomes impacted by Social Determinants of Health (SDoH), these technologies will continue to make a significant impact on population health.
As project managers, stay focused on the traditional methodologies but be bold enough to incorporate new approaches into daily practice. Securing the "knowledge and skills of the future" builds credibility and more opportunities to influence our project teams and drive project success.